Lucy has recently joined Inkerman to help Angela with private sales and as a new member of staff has been brushing up on all things gifts, trophies and awards
First on the list is glassware... 
The distinction between glass and crystal items can often be misconstrued and mislabelled, especially as they can vary between countries.
Generally, in the west, 'crystal' signifies the presence of lead. However, the European Union states that glass products containing less than 4% lead oxide are 'glass'.
EU rules specify that if products contain more than 10% lead oxide, they are classed as crystal, with products containing more than 30% considered 'high-lead crystal'.
However, in America, any glass item which contains at least 1% lead monoxide is categorised lead crystal.
This means that from a consumer perspective, the contrast between glass and crystal can sometimes be difficult to distinguish!
The main difference between crystal and glass is the thickness of items.
During the production process, the level of lead used determines the manufacturing temperature. As lead enables lower temperatures to be used, a very delicate result can be achieved. Although crystal items are slimmer compared to glass, the minerals combined during production enables them to be hard-wearing.
As the differences between glass and crystal can sometimes only be visible once holding the object, shopping for glassware online can sometimes make choosing the best type for you challenging. At Inkerman we are always at the end of the phone ready to assist with any enquiries to try and make the process a little less daunting!
Crystal
Traditionally, production of glassware has famous origins from the Venetian island of Murano from as far back as the 13th Century. Although the island is now well known for its artistic hand-blown glassware creations, it was once the heart of glassware manufacturing. The Italian term 'cristallo', was used to define imitations of Murano Glass which are now known as 'crystal'.
Glassware
Interestingly, glass and crystal are both derived from sand, also known as 'silica'.
The process of glassmaking begins by melting the silica until it turns to a liquid. These very high temperatures alter the composition of glass, so their structure is similar to that of a liquid. Once at ambient temperatures, they return to a solid.
A brief history of glass
Historically speaking, it is thought that glass making dates back to as far as the Egyptian era 3,000 years ago. The Romans progressed the technique, leading the glass making industry for centuries.
In the 1200s, the Venetians developed the industry to improve upon the quality of glassware throughout all stages of production. The quality of glassware became so high, craftsmen were confined to the Island of Murano to ensure manufacturing secrets were kept to the island.
Over time, glassmaking production evolved in European countries such as Spain and Germany.
English glassware production is thought to have started in the late Middle Ages, with most glassware being manufactured for church windows.
Throughout the early 17th century, English glassmaking was growing, once beginning as small cottage industries. English glass making gradually became monopolised when rights became approved by the crown.
Early glass making production centred around English regions such as Hampshire where timber was readily available to fuel glass making furnaces. After growing concerns about deforestation from other industries utilising wood, fuel reserves were changed from wood to coal. This alteration caused complications during the manufacturing process as the coal fumes produced a dark colour which transferred onto the glass.
In the late 17th century, lead oxide began to be used in production which made a higher quality of glass, able to be etched. The introduction of lead in the manufacturing process enabled England to be a trailblazer in the glass industry with glassware being exported in large quantities.
19th century England yielded innovations in manufacturing processes with gas being used as a fuel alternative.
Inside the factory
Glass is one of the most challenging process to work with, still relying upon the skill of professional craftspeople.
Throughout the glass making process, as the silica is melted a gas is emitted, sometimes creating small air particles. These particles are then captured within the glass structure and can produce unique pockets of air.
These air pockets are a natural result of the glass making process and do not affect the quality or artistic effect of glassware, but rather add to the uniqueness of the product and should not be classed as defects. The quality of the glass can only be affected if the air pockets are exceptionally large or break the surface.
Any of these larger air bubbles are checked during our quality control process.
The Inkerman Glass Gift Guide
Included in our selection of Inkerman fine glassware is a selection of hand-crafted products suitable for any occasion. Our glassware sits beautifully among an array of occasion tableware.
With delicate and finely crafted edges, our collection is refined enough to feel special, and well-made enough to endure many a celebration. Here are some of our favourites!
Whether for a birthday, anniversary or just a 'thank you', these Bee Wine Glasses are the perfect choice. Hand etched by our craftsman in Dorset, these red or white wine glasses are the ideal addition to any table or picnic set.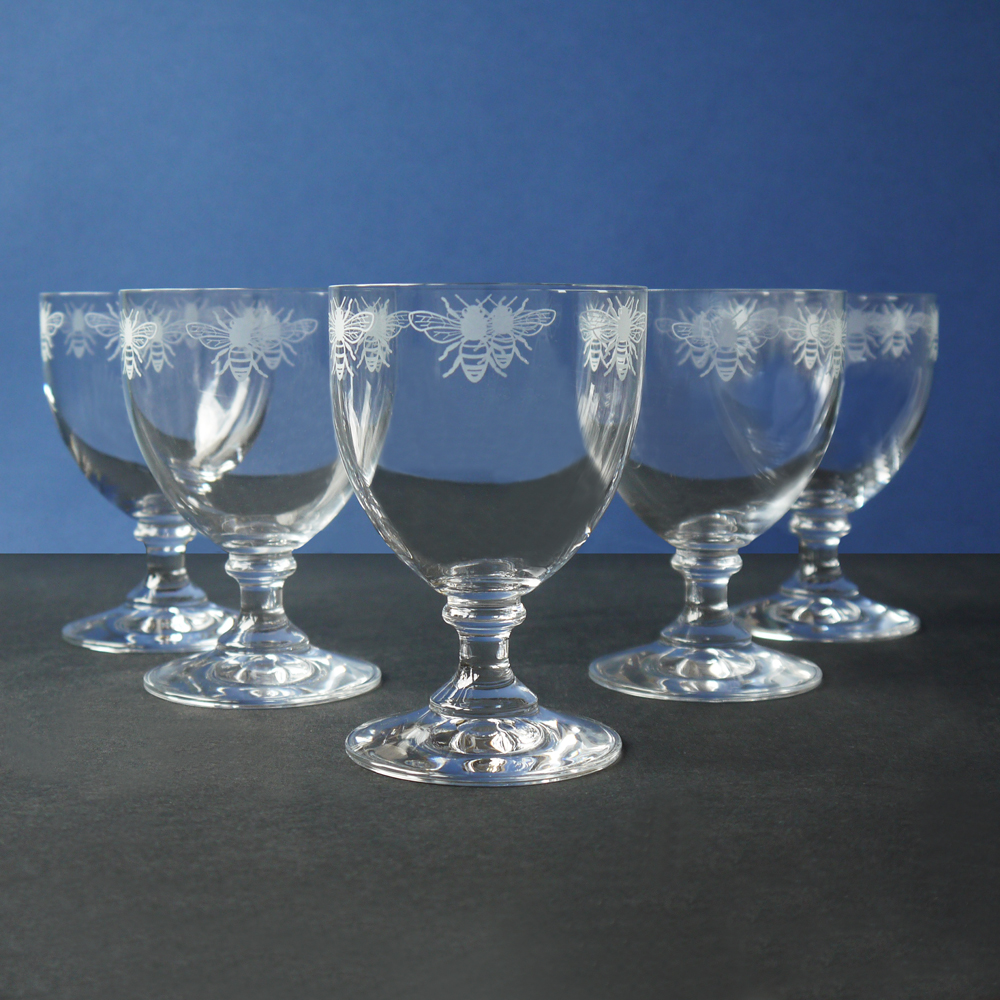 We also have a variety of Sports Themed fine Glass Tumblers and Highballs, which can be etched with personalised designs such as initials, a special message or memorable date to make the perfectly unique gift.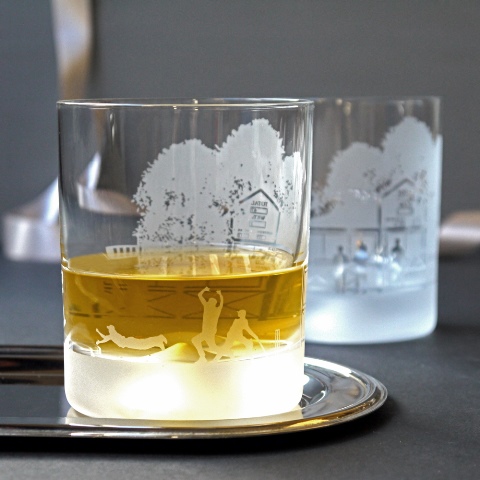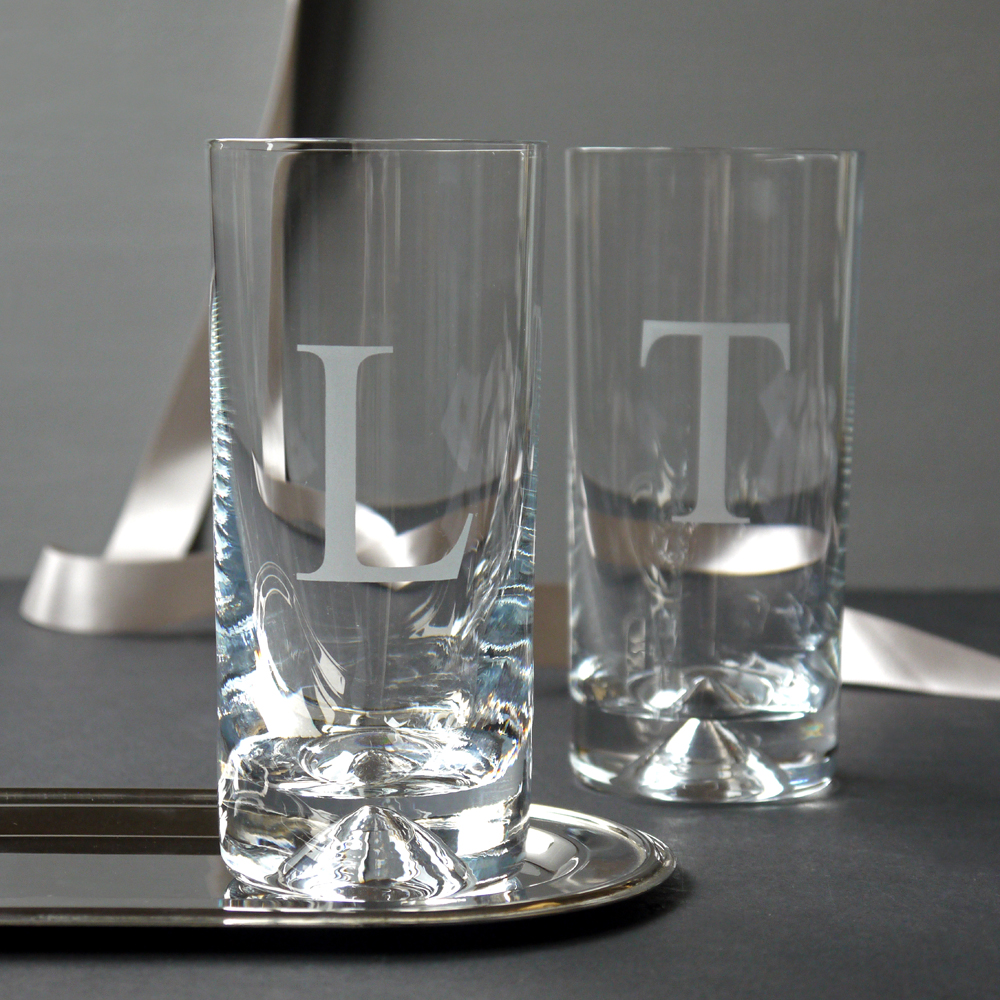 If you want the full al fresco dining experience, our jug and tumbler set is the perfect accompaniment to a sunny afternoon. Etched with a choice of scenes or why not create your own design, it also makes the ideal present.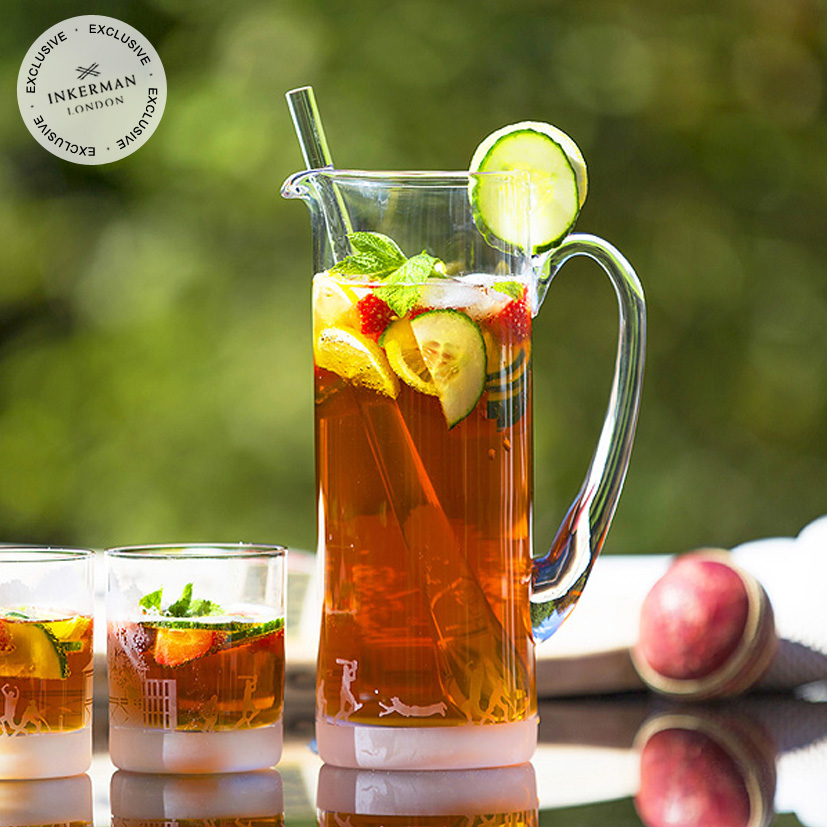 Our etched fine glass tumblers are perfect for any dog lover.  These Tumblers can be etched with initials or even your special canine companion.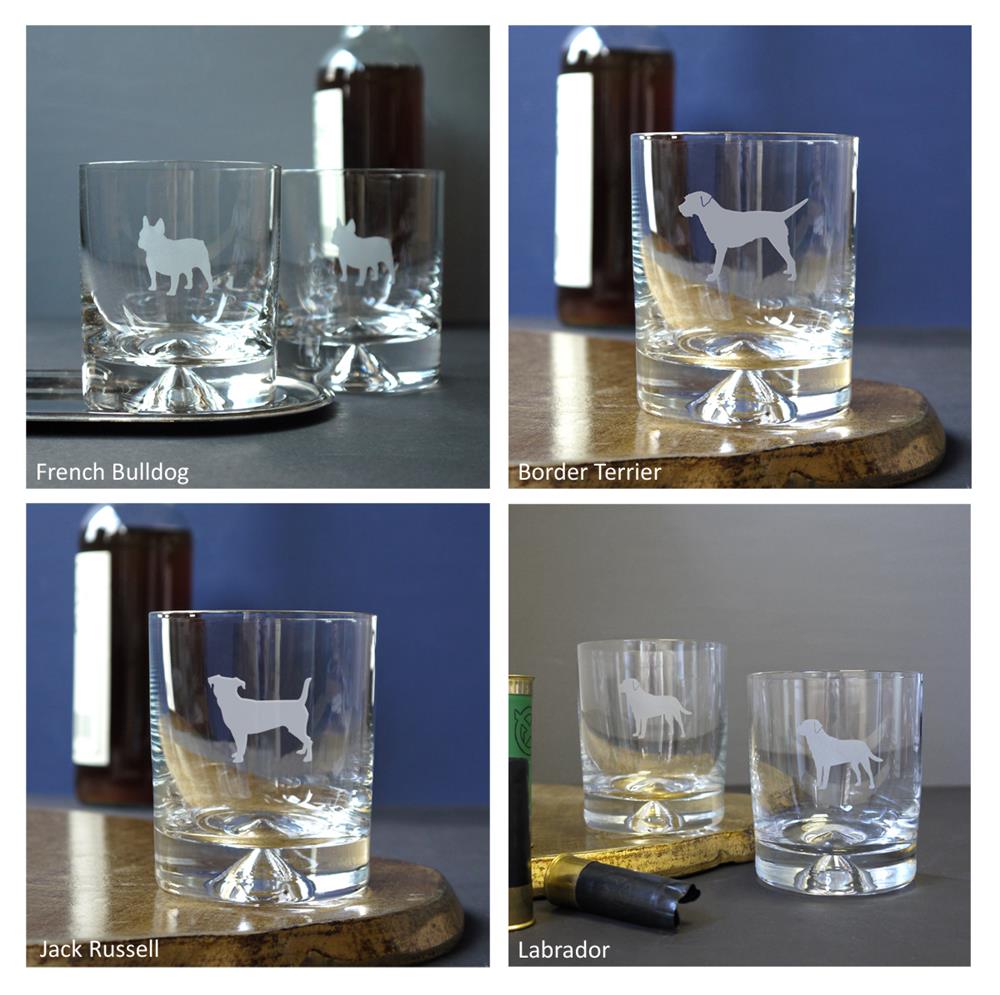 For that special celebration or milestone birthday, our vintage champagne flutes are a lovely way to celebrate, customised with your own initials.